Trial By Woman in the World
We're always pleasantly surprised when an event takes it to the next level. We imagine a great event providing a learning experience tied in with networking and different workshops and classes that blow your mind. Cue in In Goop Health: LA.

This wellness summit, May 17-19, 2019, was produced by Goop, a modern lifestyle brand that does the research for you and provides users with health and wellness advice and style tips and a finely tuned shopping experience.

We were excited to be part of the event, speaking about Confident Communication and TBW was featured in their library for guests to purchase. In addition to the main event, we got to know goop better through interviews and features on their website. You can find them on our blog here.
Rocket Matter is a cloud-based legal case management software that provides the 10 Minute Law Firm Podcast with host Larry Port. Theresa was a guest on their April 9 episode and spoke about Trial By Woman, what it's like to be a woman in a male-dominated industry, and how the legal community could support women now and in the future. You can find the full podcast here.
Embrace
Your Inner
Bad-Ass
Conference
Courtney was the key-note speaker at this Seminar & Retreat for Female Trial Attorneys, hosted by The Nevada Justice Association, from March 8-10, 2019, in Marina Del Rey, CA. Courtney and Theresa then ran a Conscious Communication Workshop the following day.
This event was hosted by the Connecticut Trial Lawyers Association's Women's Caucus, March 15-16, 2019, in Norwich, CT. Trial By Woman's Theresa presented the keynote and held a book signing for the ladies!
This conference was presented by the Brain Injury Association of California, April 5-6, 2019, in downtown San Diego, CA. Trial By Woman hosted yoga and Theresa presented "Bringing a Brain Injury To Life In The Courtroom," as one of the keynote speeches. She also was part of the "Rockstar Trial Lawyers Live Panel."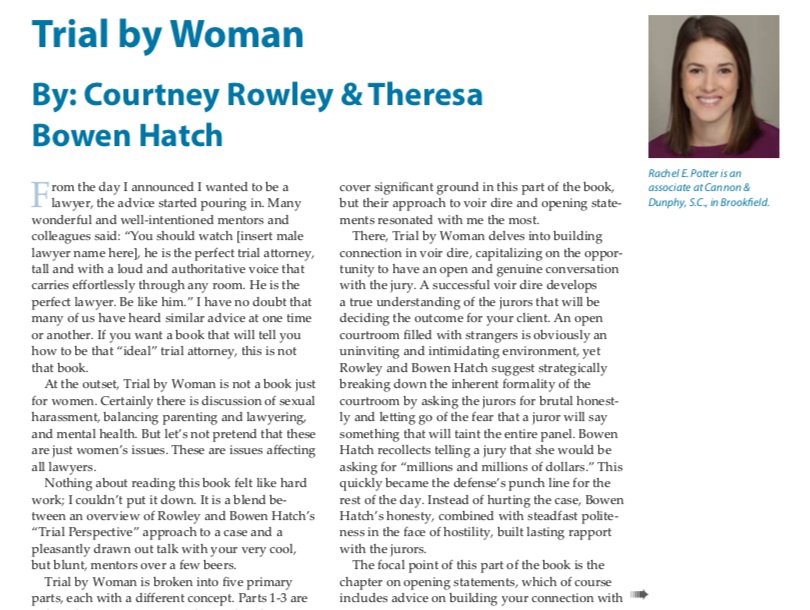 The Verdict published a wonderful review of Trial By Woman in their Winter 2019 Edition. The publication comes out quarterly for the Wisconsin Association for Justice. Rachel E. Potter wrote the honest review about our book and we thank her for her candid overview!